Eat, drink and live, we offer you a package
Our region has much to offer. We recommend you to
try a bit of everything
.
Spend
a weekend with culture and culinary highlights
, enjoy nature by hiking or discover our fully developed cycling paths.
Simply spoil yourself!
Winemaker´s evening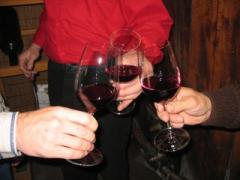 Experience your
personal wine event
directly in our house!
A close friendship connects our inn with the small vinery ´
Wessely
from the winemaker´s village "Horitschon". Rudolf and Elli Wessely produce typical,
nourishing red wines
which are famous for the Burgenland. As he loves his wine, he proudly presents them to his guests himself.
He is especially proud of
his speciality, the rare grape ´Roesler´
. This wine, accompanied by regional dishes, could make the evening to an unforgettable event for you.
Ask for prices and available dates.
The menu will be arranged
seasonal and individually for your likes
. Musical entertainment with typical folkloric songs can be arranged.
Please note: The wine grower does not speak English himself, but we can translate all of his explanations.
---
More information about the region